Norrland Tk910 v0.0.0 Mod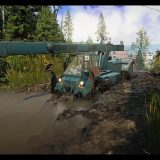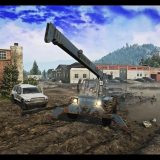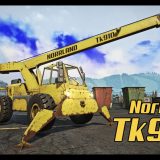 Norrland Tk910 v0.0.0 Mod
Created by the Norrland corporation in the mid 80s, this unassuming self-propelled crane is a staple workhorse of many industrial yards all over the world. It may not be the most glamorous of vehicles, but there's no questioning it's ability to put in work.
Sure, you'll find advanced modern cranes operating just about everywhere, but what do you think happens, when they inevitably break down? I assure you that there's a Tk910 somewhere on the premises, maybe not even in a shed or under an awning, because this tank of a machine doesn't really care much about the weather. The same, however, cannot be said about the paint. Some even say that there's only one moving part in this machine – the driver operator.
Gameplay:
This self propelled crane is intended to be a scout-sized dedicated crane vehicle, that's easily capable of handling heavy cargo at maximum boom extension. It can even double-up as a rescue vehicle, but that is not particularly recommended, as it may be prone to tipping over.
Tk910 has a simple 4-cylinder diesel engine, powering a hydraulic pump that operates the rest of the machine. There's no suspension, but the axles are hinged and can tilt up to 15° to the side. Power is transferred to the wheels by way of hydraulic hub motors, which severely limits the top speed of the vehicle, but it's an acceptable trade-off, as it makes it much simpler to maintain, which, in turn, contributes to it's legendary reputation for reliability.
Overall vehicle mass is low enough so that it can be transported quite efficiently on small 2-slot trailers or truck-mounted flatbeds. 4-wheel steering allows for a high degree of maneuverability, suitable for operating in tight areas, such as a busy dockyard.