GWC 359 Executioner v1.0.0 Mod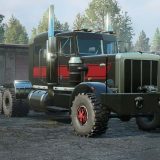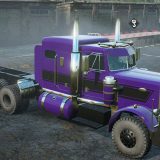 GWC 359 Executioner v1.0.0 Mod
Well, this is my final commission build for at least the next few months. I present to you all, the GWC 359 Executioner. A companion truck to the 362 Judge. Based on the iconic Peterbilt 359, this beauty has plenty of unique quirks and features and today Im going to show them to you… (wait, that might be copy protected in some way.) Ehem… so, the Executioner isnt just a pretty face, it's got the braun to match the beauty. 3 engine selections with the specially tuned line of GWC C15 motors, ranging from 200,000 up to 500,000 in-game torques to provide plenty of pulling power. My usual line up of custom tuned tires and wheels are here as well.
We do have a new feature that I decided to try out, custom headlight options. The traditional square 359 style, the round 351 style, and the more modern 389 style.
5 different front bumper options, some weighted heavier than others to help assist with towing. Speaking of assists, this truck also features a slight rear steer on the leading rear axle, based on IRL trucking tag axles in extreme heavy hauling duties.
3 suspension option of stock, lifted, and an adjustable active suspension.
Original model is from Hum3d. Interior is partially from DesireFX, partially from Sketchup and mostly re-built by me. All other parts built by me.
As always, please dont rip my stuff. If you ask nicely, I will most likely give it to you. If you think someone has ripped something from me, please send me a message rather than confronting them directly. If you want to keep tabs on what Im working on, check out my channels in both the iX and CTFT Discord servers…